Etant en vacances à la mer dans le but de prendre du temps pour moi et de me faire ma propre rééducation du pied suite à une blessure qui avait du mal à guérir, j'ai trouvé idéal de découvrir le travail d'Emoto dans ce type de contexte (cf. "Les Messages Cachés de l'Eau" – Masaru Emoto).
Ayant toujours pressenti que nombre de réponses et de clefs de guérison se trouvaient dans la nature, j'ai découvert l'ouvrage de ce chercheur japonais très intuitif qui a condensé dans cette oeuvre sa philosophie empreinte d'amour ainsi que ses nombreuses années de recherches en lien avec les propriétés et les messages de l'eau.
Les messages? Oui, les messages. En effet, l'eau est vivante et belle et bien réceptive à toute vibration. Cet article ne peut résumer le travail précieux et colossal de ce chercheur qui, tel un musicien connecté au divin, a fait en sorte de mettre en lumière les pouvoir de l'eau et le besoin d'exprimer reconnaissance et gratitude envers la nature et cet élément dont nous sommes, les humains, en majorité composés: l'eau.
Ainsi, apprend-t-on que par diverses expériences, les cristaux de l'eau sont influencés par les mots et les intentions que nous leur donnons, ou encore que l'indifférence est encore pire que des mots malveillants.
De même, l'eau est sensible aux vibrations de la musique, cette dernière étant amenée à harmoniser ou non cet élément, et à y voir se refléter ses intentions. D'ailleurs, cela peut sembler couler de source quand on fait le rapprochement entre les effets apaisants d'une berceuse ou musique classique douce (entre autres) et d'autres musiques qui ont une intention autre que l'apaisement ou l'harmonie (cela n'étant pas un jugement, aimant personnellement tous les styles de musique).
En lisant ce livre qui résonne de façon très juste à tous les niveaux, j'ai senti qu'il était important que son message universel de paix, d'amour et d'ouverture de conscience vis-à-vis de la nature et de cet élément essence-ciel qu'est l'eau, continue de circuler.
Je ne peux que conseiller la lecture de cet ouvrage si précieux qui ne peut que connecter à soi et sa nature profonde. Il combine à merveille science et sagesse, le tout connecté au divin, indépendamment de la croyance de chacun(e).
Amour et Gratitude à Masaru Emoto et à cette Eau si précieuse dont nous sommes constitués. 🙂
***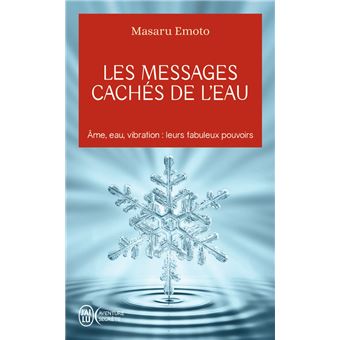 I've decided to read Masaru Emoto's work while being at the sea, as I've decided to heal my feet there, by the Nature. I've always been convicted that Nature had so many keys of Healing. What I felt physically made sense when I discovered the work of this japanese researcher who spent years of his life dedicated to the Water and its messages and properties.
His researches revealed that water holds memories and is receptive to any kind of messages. Thus, he took picture of water crystals being submitted to different types of messages or music: as you can see from the image above, the crystal takes different shapes according to the message or intention it receives. It is truly beautiful and so Alive. Masato reminds us that we are mostly made of water and then, we are receptive, like water, to intentions and words.
Thus, Love and Gratitude (whatever the language is) are the most powerful and beautiful messages and intentions, while indifference can be even more destructive than mean words.
Masaru Emoto is a genuine scientist who has succeeded to combine his heart to his work. (In a way, he reminds me of Einstein.) Through his work, he rekindles any spark of love, unity and humanity within the reader or witness of his research.
Reading and discovering his fascinating work is one of the best gifts to receive.
Love and Gratitude to Masaru Emoto, the Angels inspiring him, and to the Water, Loving, Infinite and Masterful.
"To understand water is to understand the cosmos, the marvels of nature, and life itself."  — Masaru Emoto